Best Vet Tech Watches
If you are in the veterinary profession looking for the best vet tech watches, you are in the right place! Veterinary technicians are usually the first person at the vet visit to check a pet's vital signs. Primarily checking the heart rate, respiration rate, and temperature happens throughout the day!
Therefore using a good watch with a second hand is critical for a vet tech to calculate the heart rate and pulse. Usually, a veterinarian or vet tech will feel for the femoral pulse and count the number of beats that happen over 15 seconds. More importantly, this counting is where the vet tech watch comes in handy!
No time to read our picks for the best vet tech watches? No problem, here are the top 3:
After a vet tech uses their wristwatch to get a 15-second reading, they times that number by 4 to get beats per minute number; you can see from our chart below that various animals have different heart rates. With that said a general rule is that the smaller animals have a faster heart rate. To summarize a veterinary watch is an essential tool for a veterinarian, vet tech, or veterinary assistant.
Animals are just like people in that they can get nervous during a vet visit causing their heart rate to skyrocket. It's good practice to take their heart rate at home when they are calm and not stressed out. In short doing this will give you a more realistic baseline for your pet.
| | |
| --- | --- |
| Animal | Beats Per Minute |
| Small Dogs | 80-130 BPM |
| Large Dogs | 60-100 BPM |
| Cats | 140-180 BPM |
| Humans | 60-80 BPM |
| Hamster | 250-500 BPM |
| Horse | 28-40 BPM |
| Whales | 8-40 BPM |
| Parrot (size dependent) | 140-400 BPM |
| Shrew | 1000-1500 BPM |
The Best Vet Tech Watch!
#1
Casio Women's BG169R-7A "Baby-G" White Resin Sport Watch
Casio entered the wristwatch community in the 1970s. Before watches, they focused on other digital products like calculators. The reason this is one of the best vet tech watches out there is the mere fact that it can withstand constant disinfecting, animal scratches, or water.
We love how this watch comes in multiple colors and keeps perfect time!
Type: Digital
Band Material: Plastic
Waterproof: Yes
Color: White or any other color that you want
Sale
Casio Women's BG169R-7A "Baby-G" White Resin Sport Watch
Multi-function white watch with shock resistance, alarm, stopwatch, and 12/24 hour time formats
42.6 mm resin case with mineral dial window
Japanese quartz movement with digital display
Resin band with buckle closure
Water resistant to 200 m (660 ft): In general, suitable for professional marine activity and serious surface water sports, but not scuba diving
What We Like
The Casio veterinary watch will count in seconds, which is essential when monitoring vital signs.
It is popular in the health care field with human nursing students as well.
You can illuminate the face with a push of a button.
The best vet tech watches will fit small or large wrists. Often people with a small wrist can't find a wristwatch that fits right, but the Casio "Baby G" works for all types of wrists!
What We Don't Like
The white or other colors can fade off, especially if you are washing it over and over.
If you get the white one, it can pick up other colors on edge, like if you often rub the watch or blue jeans.
2nd In Line For The Best Vet Tech Watches!
#2
Speidel Original Veterinary Scrub Watch – Medical Scrub Colors, Red Second Hand, Water Resistant
The low price point on this watch is why it's our second pick! You cannot go wrong with this vet tech wristwatch! In fact this brand is trendy in the human medical community. The silicone band makes it super easy to keep clean, as well as disinfect regularly.
The red second-hand makes it a lot easier to count seconds. Especially in veterinary medicine, you often deal with animals that are very stressed out to be at the vet's office. So having a red second hand will make your vet visit go smoother!
Some reviewers are complaining about the watch not holding up to the beating it receives from their dog and cat patients. Keep in mind that the watch is not expensive, so I would not expect a cheap watch to last for years.
Type: Analog watch
Material: Silicone
Waterproof: Yes
Color: Comes in 41 colors
Speidel Scrub Watch for Medical Professionals with Navy Silicone Rubber Band - Easy to Read Timepiece with Red Second Hand, Military Time for Nurses, Doctors, Surgeons, EMT Workers, Students and More
SUPER EASY-TO- READ: White Dial with 12 & 24 Hour Markers. Case Diameter 38mm
PERFECT FOR NURSES AND MEDICAL PROFESSIONALS: 3-Hand Quartz Movement with Highly Visible Red Second Hand Makes Taking Accurate Pulse Readings a Breeze, designed for nurses,doctors,EMT workers and students
DURABILITY & COMFORT: Easy to Clean, High Quality and Super Soft 100% Silicone Band and Water Resistant Up To 30M(99ft)
MULTIPLE COLOR OPTIONS: Available in a Variety of Scrub Matching Colors and Styles - Pink Silicone, Black Silicone, White Silicone, Teal Silicone, Blue Silicone, Purple Silicone, Green Silicone, Light Pink, Navy Silicone and Black Silicone
100% SATISFACTION GAURANTEE: We are sure that you are going to love your new Scrub Watch, but if for some reason you are not satisfied within 30 days of purchase, we will send you your choice of a 100% refund or replacement. Additionally, you will also receive our 2 year manufacturer's warranty. Please feel free to contact us with any issues that you may have and we will make it right.
What We Like
The 100% satisfaction guarantee makes this an easy choice!
It has a large enough face to see the second hand easily.
What We Don't Like
One vet tech said that this veterinary watch kept getting water droplets inside the face. They think it was due to the frequent washing.
For some people with extra small wrists, the nob on the side may cause discomfort.
This Speidel vet tech watch stops working all of a sudden for some users. (luckily, the company will replace it if you email or call them)
An Apple Watch Makes A Great Veterinary Watch!
#3
Apple Watch SE (GPS, 44mm) – Space Gray Aluminum Case with Black Sport Band
What makes an Apple Watch the right choice? Well, it has a red second hand, just like some of our other top picks, but it has so many other features that can be useful on the job.
In fact, one of Apple Watch's great features is that you can use a hands-free feature with Siri. A veterinarian can set timers, reminders and send messages all without using their hands.
More importantly get a screen protector for this best vet tech watch!
One feature many vet techs on Reddit love is the fitness tracker. Often people in the veterinary profession get a lot of exercise exercises work. Tracking the amount of exercise you get has become a powerful thing nowadays, and if you want to see precisely how much activity you get while at work, the Apple Watch will help you achieve that!
The fact that you can quickly look something up while on the job is an excellent feature. Often a vet tech or veterinarian will research a case before seeing a patient; this veterinary Apple watch can help you quickly lookup a problematic case.
Another great feature of using an Apple Watch for veterinary professionals is that you can easily set multiple timers for the various lab tests that are time-sensitive. A few lab tests that require a timer are the fecal floats and SNAP tests.
A timer can also help you manage clients and never leave a client waiting for too long. An article in DVM 360 mentions how one proactive has each staff member set a timer for 6 minutes every time they leave a room with a patient. Having a staff member return to the room ensures that no patient ever waits more than 6 minutes in a room with no contact.
Additionally choose the Apple Watch with the stainless steel body for working around a veterinary office. The aluminum one will get dents and scrapes.
Type: Digital
Material: Silicone rubber band with metal and glass for the face.
Waterproof: Yes (water-resistant)
Color: Many colors options are available
What We Like
The Apple Watch does not scratch easily when banged against the metal exam tables during animal exams.
This vet tech watch has a red second hand.
Having the calculator right on your wrist can come in handy when making a quick drug calculation.
What We Don't Like
Having an added cost of purchasing Apple Care in case the screen breaks or scratches is not ideal. We highly recommend Apple Care when using this watch in a veterinary setting.
The Apple vet tech watch comes preloaded with apps that you may not want or need.
A Swatch Can Make a Great Vet Tech Watch!
#4
Swatch Gent Standard Swiss Quartz Silicone Strap
The Swatch company makes so many fantastic watches that you can find at least one that fits your style. Swatch is a Swiss watch company that first began in the '80s.
Additionally, many of the Swatch watches are collector items. You can even find many animal theme vet tech watches or science designs. One of their out-of-print watches featuring an anatomical skeleton is now a collector's item.
We like this particular model because it has a large face with contrasting hands.
When taking an animal's vitals, you are often struggling with a wiggling dog or cat. Having a large easy to read face is essential.
Type: Analog
Material: Silicone and Plastic
Waterproof: Yes – Water resistant
Color: Any color that you want.
What We Like
A swatch can become a collector's item!
What We Don't Like
You usually cannot repair a Swatch watch.
Timex: A Low-Cost Vet Tech Watch!
#5
Timex Expedition Slip-Thru Watch
A Timex is one of those tried and true brands where you can count on fantastic quality at a low price point. This is precisely why Timex makes practical watches that are great for anyone working in a veterinary office.
This Timex watch allows you to track time with the 12 or 24-hour clock. Most veterinarians and vet techs wear a watch even though each exam room usually has a clock. To summarize a wristwatch helps a vet tech take an animal's pulse.
Type: Analog veterinary watch
Material: Fabric wrist strap
Waterproof: Yes, but not suitable for deep diving or snorkeling
Color: Green and black
Timex Unisex TW4B13900 Expedition Scout 36mm Green/Black Nylon Strap Watch
Adjustable green 18 millimeter fabric strap fits up to 7.5-inch wrist circumference
Black dial with date window at 3 o'clock; Full Arabic numerals
Silver-tone 36 millimeter brass case with mineral glass crystal
Indiglo light-up watch dial; luminous hands
Water resistant to 50 meters (165 feet): In general, suitable for short periods of recreational swimming, but not diving or snorkeling
What We Like
The Large face makes it easy to read.
The second hand glows in the dark.
The best vet tech watches have a face that does not easily get scratched when bumped against metal like this one.
What We Don't Like
Be aware that the band on this vet tech watch will become fuzzy on the strap after a lot of use.
The hands are hard to see in the dim light.
A Great Calculator Watch for Vet Techs!
#6
Casio Data Bank Quartz Watch with Resin Strap
The vet tech and veterinarian often need to use a calculator on the job. This vintage-style Casio watch will help you get the job done. The downside to this watch is that you cannot get it wet, so if you need to submerge your hands in water, then take the watch off.
If it gets pee or poop on it from your animal patients, then it will be hard to clean with all of the crevices around the tiny keys.
Since this Casio veterinary calculator watch has such a low price point, you can feel ok about it if it doesn't last for years. Finally for under $22, you can wear a cool conversation piece for a few months.
Type: Calculator vet tech watch
Material: Metal and resin
Waterproof: No, it is ok to get a splash of water on it from hand washing, but that is it.
Color: Blue, Gold, Silver
Sale
Casio Data Bank Quartz Watch with Resin Strap, Blue, 24.1 (Model: CA-53WF-2BCF)
8-Digit Calculator, Constants for addition, subtraction, multiplication and division
Water Resistant (hand washing or splashes of water only, not suitable for swimming, diving or submerging in water)
Dual Time, Daily Alarm, Hourly Time Signal, Auto Calendar
Battery CR2016, Approx. battery life: 5 years
Size of case/total weight 42. 0 x 33. 0 x 8. 40mm / 29g
What We Like
Affordable but may not last for years.
This model is lightweight and comfortable to wear.
What We Don't Like
If it's dark out, you cannot illuminate the face of the watch.
The screen is hard to read, so this watch is not suitable for taking an animal's pulse.
Some Vet Techs Prefer Stethoscope Watches!
#7
Prestige Medical Analog Stethoscope Watch
Although the Prestige is not a wristwatch, we still count it as an excellent veterinary watch. Since most vet techs and veterinarians wear their stethoscope all day long, it's easy to hook it to a stethoscope and not worry about a wristwatch. Vet tech stethoscopes come in all shapes and sizes, and this watch will fit them all!
In particular, this stethoscope watch will fit onto the tubing of most standard single-tube stethoscopes like the Littmann stethoscopes. To note: be aware that it will not work on a Sprague.
Type: Analog -stethoscope watch
Material: No strap because it attaches to the stethoscope tubing.
Waterproof: Water-resistant
Color: Black
Sale
Prestige Medical Analog Stethoscope Watch
Prestige Medical Stethoscope watch
Attaches to all stethoscope tubing and features a 24 hour dial and a 15 second marked quadrant
Battery operated (stethoscope not included)
What We Like
The red second-hand makes it easy to read the times.
It is excellent to keep on your stethoscope as a backup watch. Moreover, sometimes your wristwatch might fail, and if it does, at least you have a secondary way to monitor and record your patient's heart rate.
What We Don't Like
The stethoscope veterinary watch does not light up. Most vet's offices are pretty bright, and even on the overnight shifts, the lights will be on.
The ticking sound that the watch makes can transfer into the tubing, possibly interfering with your animal patient's auscultation. Although they can hear the ticking, some people have said that it does not interfere with them listening to their patient's heart sounds.
What Is A Veterinary Watch And Do You Need One?
Whether you are in a veterinary internship for undergraduates or work in a vet's office as a technician, a veterinary watch will come in handy.
Furthermore a veterinary watch will allow you to perform many tasks depending on what type of best vet watch that you choose.
Moreover, the main things that veterinarians and vet techs use wristwatches for are to monitor heart rates set timers, and calculate drug doses. In particular, if you have to do any of these three tasks at your clinic, consider purchasing an excellent watch to assist you!
The Different Types Watches That A Veterinary Professional Will Use
Analog Watch. This vet tech watch has a mechanism inside the watch that moves the hands around the timepiece. In particular, if you want to see the second-hand move around the clock face visually, this type of watch will work in any veterinary setting. An analog wristwatch may last longer than a digital one.
To set an analog watch, you usually pull out, twist, and adjust the button on the side to accurately set the time.
Digital Watch. A digital wristwatch has electronics inside of the watch that allows it to keep time. Usually, a digital watch will display the time with digits rather than a clock face with hands.
Although keep in mind that to accurately set the time on a digital watch, you will have to push some settings; some people may need to refer to an instruction manual to fix the clock's time.
SmartWatch. A smart wristwatch is a form of a digital watch. A smartwatch automatically tracks the time. You will not have to adjust and set the time.
A smartwatch can track your daily fitness level, set multiple timers, check emails, perform internet searches, send texts, and is highly customizable. In addition, whatever functions you'll need for work at your veterinary office you can place on the home screen for easy access. Another great advantage is the hands-free ability to set reminders, set timers, and respond to notifications.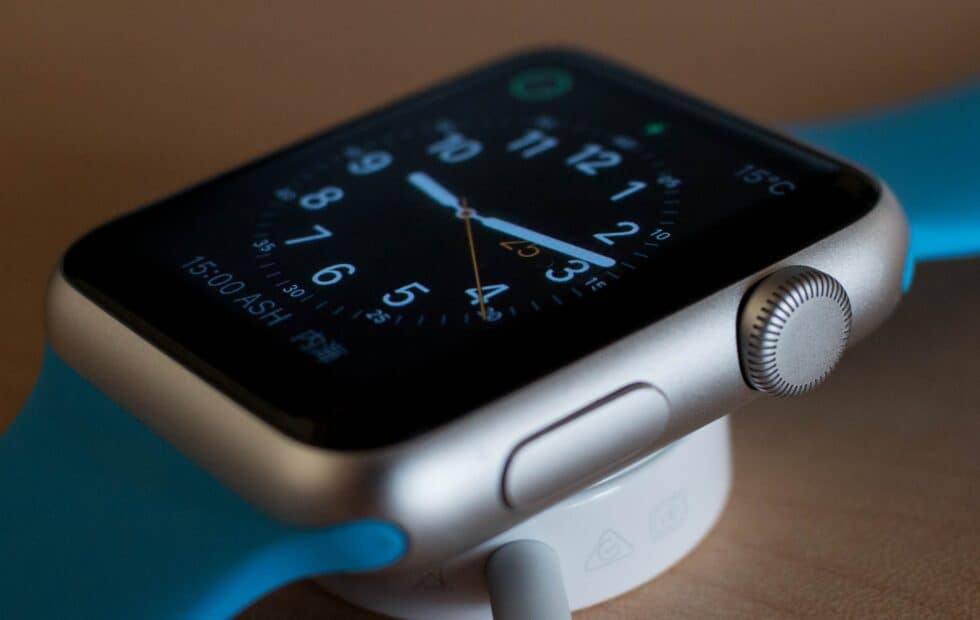 5 Benefits Of Using A Best Vet Tech Watch
You can easily track the seconds when you are checking an animal's pulse.
The ability to set multiple timers on a smartwatch is invaluable when working in a veterinary office.
Having multiple timepieces when working in a veterinary office is a must. Even if there are clocks on the walls, it is helpful to have one on your wrist as well.
You can set a reminder on your smartwatch to check back in on a patient.
Furthermore A vet tech has to calculate drug doses often; having a watch with a calculator function can come in handy.
5 Things To Look For In A Good Watch For A Veterinary Professional
A red second hand. If the watch keeps time with hands, does it have a red second hand? To illustrate, a watch with a red second hand can help you quickly see and count the seconds.
Screen Protector. Especially for the Apple and Swatch watch. Furthermore, the Skinomi screen protectors work great for any smartwatch.
Silicone band. A silicone band is washable and easier to keep clean; this is especially important for wearing it to work in a veterinary office.
Calculator. Does the watch have a built-in calculator? Above all having easy access to a calculator for quick drug calculations is priceless.
Does the watch have a large enough face that is easy to read? Veterinary offices are busy places so being able to quickly see the time, set a timer, or read notification is essential.