An important diagnostic tool for any veterinarian or vet tech is the veterinary stethoscope. Overall the best veterinary stethoscopes are not hard to find.
Whichever stethoscope you choose can be regarded as the best vet tech stethoscope as well. Oftentimes at a veterinary office visit the vet tech is the first one to assess the animal. A vet assistant vs. vet tech requires less schooling. Although they both need to use a good stethoscope to help with their diagnostic exam of the animal.
What are the best stethoscopes for a vet tech? What are the best stethoscopes for a veterinarian? Furthermore, we will attempt to answer all of these questions and more!
A veterinarian or a veterinary technician can use a stethoscope to listen to an animal's heart, lungs, measure their blood pressure, and listen to their internal organs.
Some Doctors and vet techs do report that stethoscopes hurt their ears. When we pick the best veterinary stethoscope, we will address which one is the most comfortable.
How long does it take to become a veterinarian is one of those questions where we have to say it depends on your specialty. Since vet school will be at least 4 years you will want a stethoscope that will last, not a cheap one that will break after the first year.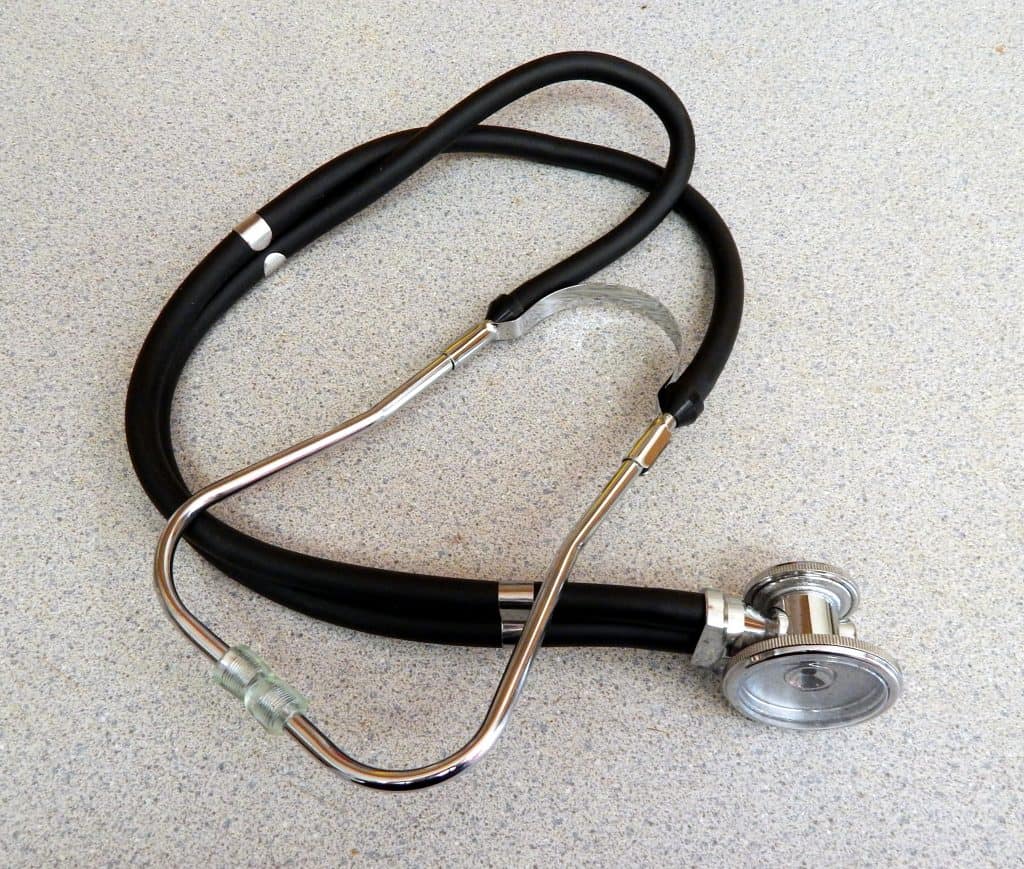 With this in mind, many people give one of these stethoscopes to a new veterinarian upon graduation. This list of best vet tech stethoscopes can also give you ideas for a great graduation gift for a vet tech. As well as simply an awesome veterinary technician gift.
Notably, if your veterinary stethoscope is painful for your ear canal, there are a few things you can do.
Use it, and over time, it should break in and cause less pain.

Switch the hard plastic earpieces to softer squishy earpieces.
Stretch the earpieces on your veterinary stethoscope apart by hand each day.
Overall The Best Veterinary Stethoscope
1. 3M Littmann Cardiology IV Diagnostic Stethoscope
During veterinary college, all students have to work with large animals, including horses, donkeys, cows, etc. In particular, the cardiology model is great for the auscultation of large animals.
On the other hand, Cardio IV is also an excellent stethoscope when listening to smaller mammals and birds. You will not have to buy a special stethoscope for your smaller or larger animal patients. Chiefly this one is an excellent diagnostic tool and can help you handle all sizes of animals.
Great Stethoscope for Equine Veterinarians!
You do have the option to add on a longer tube than the standard 27". Many veterinary students and equine vets opt-in for 32" or longer. The acoustics are lower ever so slightly with a longer tube, but it is worth it when auscultating such a large animal.
It is important to realize that the Littmann brand of a stethoscope is the most common one you will find vet techs, veterinarians, and MDs using. The Littmann's founder was an American cardiologist named David Littman.
David Littmann was also a Harvard Medical School professor by day and an entrepreneur by night!
The design of the cardiology IV stethoscope allows you to detect slight changes in sound. Consequently, you can hear heart murmurs and faint pulmonary anomalies.
Sale
What We Like About The Littmann Cardio IV
Things We Like:
You can hear and isolate subtle changes in sound in your veterinary patients.
The tube does not have latex.
The Littmann Cardio IVl has a pediatric side. The best veterinary stethoscopes will have a pediatric side, which is perfect for small mammals or birds.
Excellent in critical care environments or noisy environments (like a veterinary office).
The acoustics are a step up when comparing this model to the Classic III.

Tunable diaphragm.
Excellent acoustics!
Things We Don't Like:
The Cardio IV is a little heavier on the neck than other models.
The rim on the diaphragm can fall off if you are rough with your stethoscope.
Our Number 2 Pick for the Best Vet Tech Stethoscope!
2. Littmann Classic III
Most veterinary students start with this model since it is the most widely used one recommended by various veterinary colleges. Another great feature of the Littmann Cardio III is that it is better when auscultating large animals.
Generally speakinig to find the best veterinary stethoscopes, you will have to invest in a more expensive one. Do not cut corners when purchasing a vet tech stethoscope or a veterinary stethoscope.
The Littmann Classic III stethoscope is an excellent choice for vet techs! If you are a veterinarian at a mixed practice, this one will satisfy you. Henceforth you do not have to buy an infant stethoscope for your smaller mammals and birds.
Any vet tech stethoscope or even a veterinary stethoscope on our list will last you many years.
Things We Like:
Many veterinary technicians report that you can hear through fur, panting, whining, and other noises in a vet clinic.
This model has a pediatric side. The best veterinary stethoscopes will have a pediatric side, which is perfect for small animals or birds.
The small-diaphragm has a cover; the cover keeps it free of debris. In the long run, this will help you hear subtle sounds better.
Latex-free.
Things We Don't Like:
Namely, the sound is not as discernible as the Cardiology IV.
The Best Welch Allyn Veterinary Stethoscope!
3. Welch Allyn Harvey Elite
Why is the Welch Allyn our number two pick for the best veterinary stethoscope? Many medical doctors, vet techs, and veterinarians love the adjustable arms and ear comfort when wearing it. Doctors across the board describe the Welch Allyn stethoscope as more comfortable than the Littman cardio iii.
Another key point is that just like the Littmann brand the Doctor who created the Welch Allyn stethoscope was a renowned cardiologist. This best veterinary stethoscope and best vet tech stethoscope is not the cheapest one. It is the most durable as well as high-quality stethoscope on the market today.
Sale
Things We Like:
It has a wide range of comfort sealing ear tips, which can accommodate all types of ears.
Latex-free.
The elite line has a 10-year warranty.
The elite line has a rubberized rim on the diaphragm and bell. This rubber rim provides comfort for the furry patients as well as avian patients without fur.
More importantly, the Welch Allyn stethoscope picks up slight nuances in sound.
Things We Don't Like:
-Takes time to break in. In either case the comfort level will increase as you use the tool.
The Most Awesome Noise-Canceling Stethoscope for a Veterinarian!
4. Ultrascope Duo Stethoscope
The Ultrascope stethoscope is an excellent choice for all veterinarians! It has so many options for large and small animal veterinarians, as well as exotic vets.
The Ultrascope is pressure-sensitive, which means that you need to apply different amounts of pressure to hear low sounds.
Overall many veterinarians swear by this stethoscope and will not go back to the Littmann.
A Great Stethoscope for Avian Veterinarians!
This model comes with two diaphragm heads- one smaller and one larger. If you listen to smaller patients like parrots and ferrets, then you would use the pediatric side. Becoming an exotic animal vet takes many years of school, and having the right stethoscope tool is imperative.
One of the Best Stethoscopes for Large Animal Vets!
Ultrascope also has one model called the Ultrascope Extended model. The extended model is great for large animal vets or vet techs. The length of the tubing makes this one of our top picks for the best veterinary stethoscope.
If you are a large animal vet tech or a large animal veterinarian, please consider this Ultrascope extended stethoscope. Most large animal vets find themselves working outdoors in freezing temperatures.
The extra-long tubing allows the vet to keep the best large animal stethoscope under a coat. In turn, they can loop it out of the sleeve or bottom of the jacket. The vet can easily convert back to the standard 30" tubing when you are working indoors.
Noise Cancelling Stethoscope with Sapphire Galaxy Design - Ultrascope - Clinical Grade - Dependable Stethoscope - Stethoscope Medical - Single Adult
BEAUTIFUL, COLORFUL STETHOSCOPE - Need we say more? Our Sapphire Galaxy Design comes in fun & popular color schemes. The best stethoscope for nurses – both kids and adults are delighted to see the colorful design.
PROFESSIONAL GRADE - Ultrascope is a unique, single-sided, pressure-sensitive, acoustic stethoscope that delivers accurate assessment of heart & lung sounds in human and animal patients. Save time spent flipping between diaphragm and bell with our single-sided, pressure-sensitive head. The Custom Acrylic head is lightweight, shatterproof, and ergonomic.
CLEAR SOUND - Obtain superior sound quality in any situation, even noisy environments. Our noise blocking stethoscope allows you to assess through bandages, clothing, blankets, or fur. Hear the split S2's and murmurs through sirens, machines, and crying children.
TRUSTED & USED BY MEDICAL PROFESSIONALS - Doctors, Veterinarians, RNs, PAs, advanced practice nurses, medical assistants, EMT's, and Paramedic & ER Specialists all rely on Ultrascope for a quick, accurate assessment. The Ultrascope stethoscope with noise blocking sound is extremely durable and dependable for tough shifts and long careers.
LIFETIME WARRANTY - Every Ultrascope and Maxiscope has our Lifetime Warranty and we will always replace any part that goes wrong; no questions asked! We want you to be confident that your Ultrascope will work forever. Ultrascope is also the perfect med school gift, guaranteed to be useful for their entire career.
Things We Like:
Lifetime warranty.
This veterinary stethoscope has an amplified sound.
Ultimately, you can use different pressures to hear a variety of sounds.
You will receive a lot of compliments because of the colors.
Noise-reducing properties.
Things We Don't Like:
Some pieces break. They do have a lifetime warranty, so this should not deter you.
Top Notch Vet Tech Stethoscopes with a Low Price Point
5. MDF Sprague Rappaport Dual Head Stethoscope
To sum up the Sprague Rappaport enables the veterinarian to assess a wide range of animals with one tool. The low price point also makes this a tremendous veterinary stethoscope to keep in your car as a backup.
The sound quality is better than the classic Littmann stethoscope. On the other hand, the audio is not as precise as the Cardio IV Littmann.
In summary, the Sprague Rappaport is a great stethoscope to use as your primary tool. Many vet nurses report that they use this as their daily stethoscope and then have other models for specialized tasks.
MDF Sprague Rappaport Dual Head Stethoscope with Adult, Pediatric, Infant Convertible chestpiece - All Black (MDF767-BO)
TRUSTED by Medical Providers since 1971 | Backed by our Full Lifetime Warranty & Free-Parts-For-Life Program | Latex-Free
TRADITIONAL 5-IN-1 SPRAGUE DESIGN > a full range of diagnostic applications with included adult, pediatric, and infant attachments. Empowering you with the convertibility to diagnose all patients in a design that's been trusted for years. TRUE BELL & DIAPHRAGM > take the guesswork out of auscultation.
CUSTOM FITTED > choose from three sizes of ComfortSeal soft silicone eartips for a perfect and comfortable fit. The soft silicone material and accurate sizing, forms a sound seal to block out unwanted ambient noise. ●SOUND BARRIER > with high quality, latex free, non-stick and crack resistant tubing. Secured in place by chrome-plated brass acoustic tube clasps.
DUAL LUMEN TUBING > a separate sound channel for each ear, the dual lumen tubing directs sound for increased clarity.
SOUND INVESTMENT > get free soft silicone eartips, replacement diaphragms, retaining-rings, bell rings and ID tags, with our Free-Parts-For-Life Program.
Things we like:
The tubes have a thicker, denser, latex-free extruded PVC.
In short the dual lumen tubing allows each ear to get its sound channel.
Lifetime warranty.
Great for listening to sounds on small mammals, like guinea pigs.
Things we dislike:
This best veterinary stethoscope is bulky because of the double tubes.
There are metal bands that hold the tubes together which as a result can get caught in your hair.
Unfortunately, the tubes are thick and stiff, which causes them to not lay flat around your neck.
The Least Expensive Best Stethoscope for Vet Techs!
6. Prestige Medical Veterinary Clinical I
The Prestige veterinary stethoscope has a design and functionality that veterinary professionals will appreciate. The first thing to remember is this lower-cost alternative stethoscope has an alloy sound conductor inside the tubing. Particularly this provides a clear and crisp transmission of sound.
If you are the type that loses your tools, then the Prestige Medical Veterinary Clinical I stethoscope might save you time and money. Due to the low price point, you can easily afford to buy a few of these so that you can have one for the car, one for the office, and one for home!
Sale
Prestige Medical Veterinary Clinical I, Purple
Classic dual head stethoscope that is acoustically and aesthetically enhanced by its all stainless steel construction
Features 2" longer tubing to enable easier auscultation of larger animals
Incorporates a snap-on diaphragm retaining ring and a non-chill bell ring which contributes to the ease of use and maintenance
Overall Length: Appx. 33"
Weight: Appx. 6.7 oz
Things We Like:
The low price point makes it a great back up for your more expensive model of a stethoscope.
Longer tubing makes it an excellent choice for large animals.
Things We Don't Like:
This low-cost vet tech stethoscope will not work well for small animals or birds.
It is not made with the same quality as our other four picks.
What Is A Veterinary Stethoscope And Why You Need One
Veterinarians and vet techs use a stethoscope as a diagnostic tool to assess various sounds in an animal's heart and organs. A veterinary stethoscope is a must-have tool. A good stethoscope will allow you to hear the different sounds produced in the heart, lungs, liver, and digestive tract.
All vet techs and veterinary students learn how to use a stethoscope to listen to an animal's internal organs. Once you become familiar with the sounds that a normal heart makes, you will begin to discern problematic sounds. Becoming a master at using a stethoscope comes with practice and patience.
If you are a veterinary student, it will be wise to practice listening to as many different animals as possible. If one dog patient has thick fur with an undercoat, you might need to listen more carefully to hear nuances in sound.
How to use a Veterinary Stethoscope
A vet tech uses one of the best veterinary stethoscopes on our list to check a dog's vital signs.
This video highlights how a vet tech checks vital canine signs during a routine exam.
The Different Types of Best Veterinary Stethoscopes
Cardiology Stethoscope
This type of stethoscope is our number one pick for the best veterinary stethoscopes! It allows you to give a more precise diagnosis and listen to subtle sounds within the heart, like heart murmurs.
It comes with an adult and pediatric side, so you don't have to have a separate veterinary stethoscope for your smaller patients.
Pediatric Stethoscope
A pediatric stethoscope is great for small mammals or birds. The diaphragm head is about 1 inch in diameter, with a rubber rim that allows your patient to be more comfortable. This rubber rim helps shield the patient's skin from the cold stethoscope diaphragm head.
Veterinary Stethoscope
Some stethoscopes have a label on them that says they are veterinary stethoscopes. In all honesty, this is not necessary. Any good stethoscope that is for a human will work just fine on an animal.
The main thing to figure out is if they will be working outdoors, indoors, and on what type of animal. For example, if a veterinarian is only working on exotic small animals, they will need the best stethoscope with a little diaphragm head.
On the other hand, a large animal vet working outdoors will need our #4 pick. Choose your best veterinary stethoscope based on what type of animal you are treating.
Sprague Rappaport Stethoscope
A Sprague Rappaport stethoscope is a model that has two separate tubes that transmit the sound. These models also have tension springs allowing you to adjust the ear tips for comfort. The Sprague Rappaport enables the veterinarian to assess equine, dogs, cats, parrots, mice, marine mammals, and more using just one stethoscope.
5 Things To Look For In A Good Vet Tech Stethoscope
Is your veterinary stethoscope tubing Latex-free? Many people have a latex allergy; make sure yours does not have latex.
How long do you want your tube? If you need a longer than 32 inches tube, you might like to opt-in for the Littmann Cardiology IV. This model has the option to purchase an additional longer tube. Another model that has a longer latex-free tubing for equine vets is the Ultrascope Extended model.
Do the ear tips have exchangeable squishy silicone pieces? How the earpieces sit inside your ear will effect your diagnostic capabilities.
How heavy is your stethoscope? Do you suffer from neck pain? If so, then you may not want the heavier Cardio IV Littmann model. You might also need to give yourself time to adjust to the new stethoscope.
Our Pick for the Best Veterinary Stethoscopes
When you get a brand new stethoscope, you should allow your ears and neck to get used to it. Buy two stethoscopes, one cheaper and one more costly. Switch them each day or mid-shift. This technique is similar to breaking in a new pair of shoes.
In conclusion, The Littman Cardiology IV is the winner!
Sale