The Virginia-Maryland College of Veterinary Medicine is going above and beyond to communicate their current positions when applying during these uncertain times. The world is facing a global pandemic and this Virginia tech vet school has stated that during this crisis they are only requiring 0-100 hours of veterinary experience.
VMRCVM knows that gaining vet hours is hard right now. This is due to the fact that veterinary offices want to limit the number of people inside. They are also accepting online coursework. Check out their admissions website and find out up to date info. As the year progresses this information might change.
What is your name and what year did you start at the Virginia Tech vet school?
Matt Crawford-Jennings, Virginia-Maryland College of Veterinary Medicine, started 2018
Who are the animals that you currently share your life with at VMCVM?
3 Cats: Hero (7 y NM orange/white Maine Coon), Speedy (6.5y SF calico/tortie mix), and Kai (10 NM white DSH)
2 rabbits: two bonded mini rex a just turned 2y (Bunilla Ice and Cinnabun)
If you have pets living with you during your years at the Virginia Tech vet school, how do you balance caring for them with classes?
They usually come right over to me when I'm home and sit on my lap! Otherwise, I make it part of my day to spend time with each of them. Hero is my big lap cat, so we wind down together watching tv at night. Kai is my rambunctious little demon cat who finds everything to be a toy because of this he can easily entertain himself. Speedy likes to give you loads of attention when on a phone call or on the computer so she'll seek you out when she knows you're busy.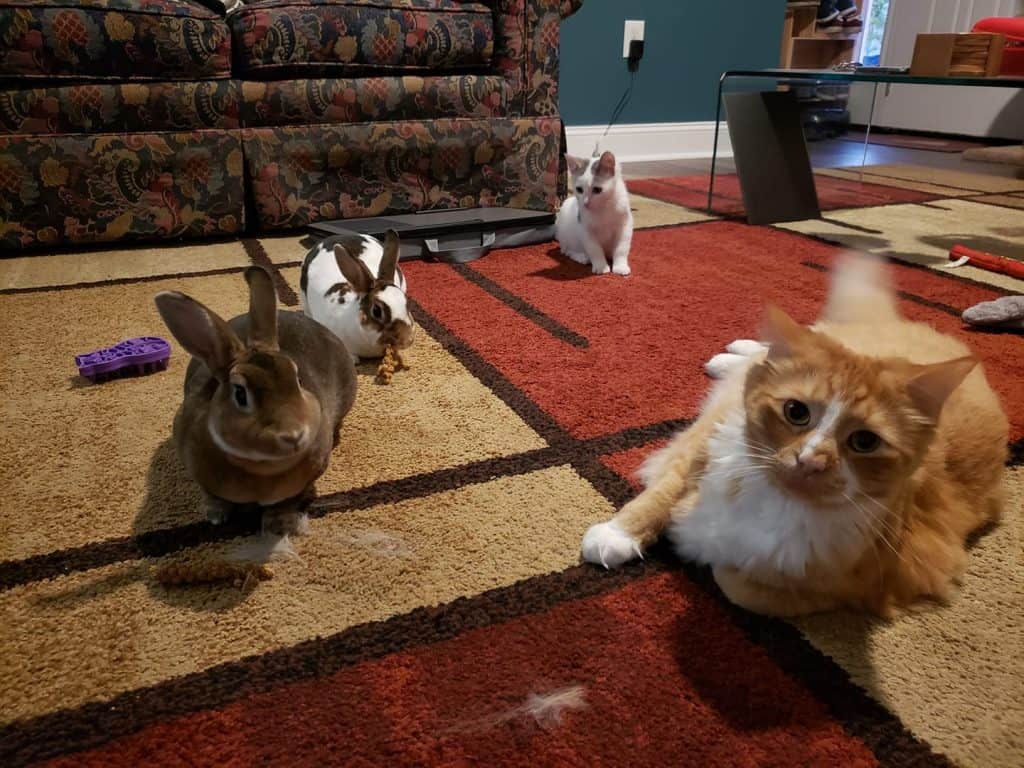 As for the bunnies, I actually schedule them into my days/weeks/month so I can remember when to clip their nails, brush them, clean their cages, and give them exercise. All the cats and bunnies actually romp around together well when supervised!
What has been the one text book you have used the most in veterinary school so far?
School purposes: Thrall's Textbook of Veterinary Diagnostic Imaging
Spare time: Veterinary Anesthesia
Sale
Handbook of Veterinary Anesthesia
Used Book in Good Condition
Muir DVM MSc PhD DACVA DACVECC, William W. (Author)
English (Publication Language)
616 Pages - 12/13/2012 (Publication Date) - Mosby (Publisher)
Do you think there were any specific experiences or items on your application that helped strengthen it?
Oh definitely! Before getting into the Virginia Tech vet school, I worked in a variety of clinics as a veterinary technician. I worked for an alternative veterinary clinic that used acupuncture, chiropractic, and Chinese herbs for two years full-time where we did a lot of nutritional and lifestyle counseling.
At the same time, I was working as an Overnight ICU Technician at Vermont's only Equine Specialty and Emergency Hospital here and there for a year and a half. Working as a Teaching Assistant for Endocrinology in undergrad definitely helped to strengthen my application. The fact that I spearheaded a lot of groups such as study groups for Anatomy & Physiology, Endocrinology, gave me a lot of interesting things to add to my application.
I even started a Microbiology journal club that met once a week during undergrad.
In my application, I also talked about being a military spouse. Including what it was like handling all the finances and logistics while my husband was deployed in 2016.
Where did you attend undergrad and what was your major?
The University of Vermont with a major in Animal Science (pre-veterinary concentration). No minor.
Did you apply for vet school after, or during your Bachelor's education?
I applied 2ish years after graduating with my Bachelor's degree. My grades/GPA weren't considered very competitive (my advisors actually recommended I not apply to vet school). So, I wanted to acquire some unique experience and pay off some debt, as well as have some fun and figure out what 'adulting' is like before being a DVM student.
I HIGHLY recommend people to take a gap year or two (or more), I learned SO much about veterinary medicine and ended up finding my passion and hobbies inside and outside vet med. An important thing to mention is that all my time in the clinics really paid off, once I got into vet school. It paid off in terms of my advanced knowledge of pathophysiology, pattern recognition, and clinical skills.
Did you attend grad school?
No.
At what age did you first apply to vet school?
22.
How many schools/application cycles did you apply to before getting into the Virginia Tech vet school?
I was very fortunate to get in on my first shot, but I made a crazy excel spreadsheet with every accredited US vet school with their statistics and made up equations and stuff to help me determine which schools I had a decent to good chance of being accepted.
One of the major factors I looked at beside tuition was out of state acceptance rate (as being a Vermont resident I had no in-state opportunities). Schools that had slim OoS acceptances I shied away from because of my not so stellar grades. I applied to 10 schools, which was expensive but worth it.
There is no easy answer to the question: how many vet schools should I apply to?
Were you waitlisted at any schools?
I was waitlisted for Michigan State U, but got accepted shortly after.
How many schools invited you for an interview?
3 (Virginia-Maryland, Michigan State U, Midwestern)
How many of those gave you an acceptance letter?
I was accepted to all 3.
What were some reasons in your choice to attend VMCVM?
The two major factors: 1. which of the three areas was better for my husband (and if he could quickly get a good-paying job) and 2. tuition. Virginia Tech vet school was chosen not only for the feel and atmosphere but also because I was able to get in-state tuition. This was due to the Post 9/11 GI Bill my husband graciously gave me. Virginia tech vet school gave the lowest tuition rate out of the three.
Have you experienced anything interesting while attending veterinary school?
I don't even know where to begin! A week before school started our entire 1st-year class had to go to team building activities at the school and at a nearby camp and we were all a little hesitant and awkward in the beginning, but a week later they're all really close friends of mine.
Last month we had our first spay surgeries. I was incredibly grateful to find out at the last minute that the cat was in mid-term gestation (who was so incredibly sweet) and it was an incredible learning experience. As the Emergency and Critical Care President, I work closely with the Veterinary Emergency Group (VEG). I was able to get them on campus for a talk and night out. This was the most fun I have had during a school event.
One more thing was the APVMA at the end of February. It is exciting to see the pre-vet students and share our stories with them.
I headed a CPR lab with SAVMA to teach the pre-vet students right and wrongs of compression, IV catheters, and intubation—so much fun ? Lastly, I was apart of a team that was able to successfully perform CPR on two dogs AND they were able to go back home to their families!! There is no other feeling like that!
Do you remember any specifically challenging interview questions?
Honestly no, I find myself to be really good at interviewing and usually do much better going off the cuff than trying to memorize and prepare answers. I'm lucky!
What was your GPA (in undergraduate)?
I can't remember exactly by my cumulative was about a 3.27 and my science was 2.7 (again, my advisors recommended I not apply to vet school) because chemistry, organic chemistry and physics were not my friends.
What was your GRE score? Free GRE timed practice tests can help anyone increase their score and confidence.
155ish quantitative and qualitative
4.5 on the writing
How many extracurricular activities did you list on your application?
I think just Microbiology journal club and interning at the University of Vermont Medical Center's microbiology lab.
Did you have exotic, large and small animal experience prior to applying to veterinary school?
Well UVM really only gave us experience with cattle. I did get certified in cow artificial insemination though which was an impulsive decision! For small animal I had between about 5,000 hours of experience, and for equine I had about 600 hours I think. For exotics I worked with a few rabbits for medicine and surgery and then 1 golden eagle.
What types of paying jobs did you have before going to Virginia Tech veterinary school?
Veterinary Technician positions at a few hospitals.
Did you volunteer before getting into the Virginia tech vet school? If so, where?
I didn't start volunteering until I moved to Christiansburg, VA. After moving to VA I started and still volunteer at Mountain View Humane Society to get a break from Emergency/Critical Care clinics/life. Another reason why I chose to volunteer at the Mountain View Humane Society was that I wanted more experience with lower-cost medicine (definitely still high quality!)
How many people read your personal statement before submitting it?
I think 10 people or so. I asked for no filter feedback form everyone.
When did you decide to become a vet?
Ever since I can remember.
Did you interview any vets before starting the application process? If so, how did you approach them?
Not formally. I just casually asked questions through the work day here and there.
Were you a member of any clubs at your undergraduate school? If so, which ones?
No.
Did you join student clubs in your DVM program? If so, which ones? Were they helpful?
Yes!! I joined the Student Emergency and Critical Care Club (SVECCS) and have been the President for the last two years! Since that is my passion in life anything to do with the topics excites me! As of last year, I am also the Vice President of the National Student Veterinary Emergency and Critical Care Society (NSVECCS)! I also joined the Pathology club and imaging clubs. Monthly imaging rounds are SO helpful to brush up on a variety of species.
Who gave you your letters of recommendation? Did you know them well?
Two of the vets I worked for at the alternative veterinary clinic and my Endocrinology professor who I TA'ed for. I knew them all pretty well—especially the two vets—lots of afterhours emergency surgeries will bring you close pretty quickly.
Did you find the application process stressful? Why or why not?
Oh, I certainly did! I literally checked my application several times a day before AND after submission because I was so paranoid I was missing something. Afterward, I contacted every school, right before the deadline to ensure I was golden. I lost sleep a lot of nights during the waiting period and one or two random cry sessions.
Are you happy that you chose this career? What makes you most happy about this career choice?
Absolutely! I find veterinary medicine rather stimulating as your patients can't talk and that adds difficulty to fitting the puzzle pieces together (I love challenges). Also, after working in emergency medicine I discovered that I really like being part of a team that can bring animals on the edge of death, who seem hopeless, back into good health and back to their families.
Do you have any advice for students, once accepted?
I have a few. Make friends outside the vet school and veterinary field! Sometimes it is pretty mind numbing doing only vet related things day in and day out 24/7.
Get yourself out there! Join some clubs!
Especially if they are in fields you think you don't like or have no experience with. You're paying a lot of money to be there so you might as well fully dive in and see what you like. You might be surprised by falling in love with a topic or species you previously thought you wouldn't! Also, learn to take regular breaks from studying and school-related things. It is okay to chill and not get an A on every assignment and exam—the grades don't define you.
Any study tips?
Try to quickly look over the next day's lectures the night before if possible. Pay attention in class (no phone, don't web surf, etc.) and take good, active notes!
I also use the learning objectives when I get home to review the lecture's and cement the important concepts. Then I review all of those the next day in the morning or at lunch. That way when the weekend rolls around, everything should be review rather than still not understanding it. Last but not least, be efficient!
There will be things you just don't understand the first, second, even third time around and that is okay. Instead of marinating on it and not moving forward, come back to it later. It is amazing what some time away and a fresh set of eyes will do to a problem that previously seemed impossible.
What have been some of your favorite classes, with your DVM program at VMCVM?
Since we have been using the new, integrated curriculum I have to say second year, second semester with Breathing & Circulating (cardiorespiratory, lymphatics, and hematology) and Eating & Eliminating (gastrointestinal, endocrinology and more). It was internal medicine of all sorts as well as anesthesia so I was in heaven.
What has been the most challenging class, in your DVM program so far?
The Next Generation – all about reproduction and medical genetics. They aren't topics that interest me so it was hard to motivate myself to study and pay attention.
As a student, did you have to take out loans for your education? If so, are you concerned about the amount of debt you will have after graduation?
Sure did, but made it an absolute priority to only take out FAFSA associated loans and not private loans. I am not particularly concerned with my post-graduation debt—I have worked really hard for scholarships and grants that I am making a decent head way so far. I also did the math way before I started vet school and am about on par with what I expected. In the end it'll all work out.
Is there anything in particular about your DVM program or the school itself that you like?
The integrated curriculum for sure.
Does your school offer study/review sessions held by upperclass students?
There is tutoring you can sign up for.
Do you have any advice for students thinking about attending your University?
DO IT, especially if it is your in-state. You will LOVE this school when you visit.
At this point do you think you will have a specialty?
Yes! Emergency and Critical Care or Anesthesia—it just depends on which residency program I get into first. Maybe if things work out, both of them ?
Did you work a paid job during vet school? If not did you know of anyone who did?
Yes, I was an overnight veterinary assistant at a local ER clinic until the second semester of second year. I was trying to help my husband pay the bills and for us to save some money. It is relatively uncommon for students in my class to be working during school.
Aside from some of the animal fiction books out there, have you read or listened to anything worth sharing?
Hisashi Ouchi got a dose of 17 Sieverts of radiation (2x the lethal dose) from the Tokaimura nuclear accident. He was the first human to have ever lived with NO DNA after that.
Do you have any last words of wisdom?
It is alllllllllllllllllllll going to be okay. Even if you don't get in on your first (second, third, etc.) cycle. Remember that grades don't define you. Every veterinarian that graduates and gets licensed has the same title—as in, they all received passing grades. When in the work force no one really pays attention to what grades you got or if you graduated with honors. Not everyone is a good test-taking and that is fine, I have seen plenty of people excel at work and with hands on experience compared to those who got straight A's. Just remain positive and keep up the good work!
Everything will work out if you keep going ?
How can people find you?
https://www.linkedin.com/in/matthew-crawford-jennings-3061b6125/
https://www.facebook.com/mattadelic
Message me if you have any questions or concerns about vet school (or even not vet school)!