Vet student essentials are essential to get before you start your first semester. As a vet student, you've got enough to worry about juggling your academic demands, student organizations, and social life. These vet school essentials are what every veterinary student needs to start bag a successful path towards becoming a DVM! How about if we told you that by incorporating these ten essential elements in your first year as a veterinary student, you would be on your way to success?
If you are looking for general backpack essentials for college, we feature those too!
You will need certain things as part of your vet school supplies. The following ten vet school essentials will help you stay prepared and keep track of your busy schedule.
During all of those tough pre-veterinary years, It may feel like you spent more time in the library than you did at home. And when you finally get a break, all you want to do is relax, but there are so many things to buy for vet school!
We know that feeling because we've been there too. But don't worry, we've got you covered. We've put together a list of the best vet student essentials that will make your life a little bit easier. Don't worry that the microbiology textbook from undergrad will come in handy as a reference guide!
11 Essential Vet School Supplies: Vet Student Essentials
#1
Backpack
A good backpack that is comfortable and waterproof is a must. A waterproof backpack for college is a must, especially if you live in a rainy climate. A backpack might be one of the most important vet student essentials.
This lightweight waterproof backpack is perfect for the vet student on the go. And with a spacious large front pocket, you can easily keep everything you need in one place!
We recommend this Jansport book bag because it's incredibly durable, has a lot of pockets, and has room for oversized books. The shoulder straps are padded and won't slip off of your back while you're rushing to class.
JanSport TDN7 Big Student Backpack
THE BIG STUDENT BACKPACK: The classic JanSport backpack look, with more space & pockets, the Big Student is great for high school & college students. A water bottle pocket & three front zipper pockets means more room for books, snacks, electronics & gear.

YOUR EVERYDAY, EVERYWHERE BACKPACK: JanSport backpacks are popular at school for a reason. With colors & style that reflect your personality, room for books, water bottles, laptops & sports gear, your JanSport goes from school to fun as quickly as you do.
JANSPORT BACKPACKS: JanSport backpacks are made with durable fabric, zippers & straps, in colors & designs to reflect your style. We stand by our packs for a lifetime, so carry your JanSport on your adventures, knowing we'll replace or repair any breaks.
WE'RE ABOUT THE JOURNEY: JanSport is about the discovery of fun, freedom & adventure. From your first school backpack & lunch bag to the messenger bag for your first interview, from running errands to chasing dreams, JanSport gear inspires your journey.
WE'RE THE ORIGINAL: JanSport began making backpacks in 1967. From lunch bags to fanny packs to laptop bags, JanSport gear is durable and functional.
#2
A Laptop or Tablet – Vet Student Essentials
The majority of vet students will say that the Surface Pro got them through vet school. It's just one of those expenses you have to bite the bullet on. If you're thinking about getting a laptop for vet school, we recommend the Surface Pro because it's portable and versatile, allowing you to take notes in class. Another great feature is that you draw and write on the screen, which is crucial in the anatomy lab. When you are in the radiology lab, you will be thankful that you have a Surface Pro. Being able to draw over anatomical diagrams and take notes is imperative for understanding the material.
The Microsoft Surface Pro is lightweight and powerful.
The best part is that it has an attachable keyboard (sold separately) that turns this tablet into a fully functional portable computer!
Even though most students will have the Surface Pro, we prefer the iPad. It is more user-friendly and allows you to do most of the same things.
Newest Microsoft Surface Pro 7 12.3 Inch Touchscreen Tablet PC Bundle with Fingerprint Type Cover and WOOV Sleeve, Intel 10th Gen Core i3, 4GB RAM, 128GB SSD, Windows 10, Platinum (Latest Model)
Next-Gen power to fuel your ideas: Powered by a 10th Gen Intel Core processor and over two times faster than Surface Pro 6, Surface Pro 7 keeps up with you. This next-generation laptop features the versatility of a studio and tablet, so you can type, touch, draw, write, work, and play more naturally.
With multitasking speed, improved graphics, amazing entertainment, quality Wi-Fi performance, and long battery life. The high-resolution PixelSense display with ambient light sensing automatically adjusts to lighting conditions.
More ways to connect: Now with both USB Type-C and USB Type-A ports for connecting to displays, docking stations and more, as well as accessory charging.

The standout design won't weigh you down - ultra slim and light - Surface Pro 7 starts at just 1.70 lbs. All-day battery life up to 10.5 hours, plus the ability to go from empty to full faster - about 80% in just over an hour.
With Windows 10 Home, enjoy familiar features, such as password-free Windows Hello sign-in. Create your best work with Office 365 on Windows, and keep photos and files safe in the cloud with integrated OneDrive.
#3
Planner (unless you prefer to use the calendar on your phone/laptop)
A planner is a must for keeping up with your class, work, and extracurricular activities. I like writing down all of my upcoming tests and quizzes in a paper planner; this allows me to keep track of them all in one place.
A Moleskine Student Planner will help vet students stay on top of their academic and social obligations by providing ample space to write out assignments and deadlines. The monthly overviews also allow students to see what they have coming up in classes. These can be helpful when trying to figure out how you will schedule study time for each category. The best part about this weekly Moleskine planner is the soft cover and thick pages.
Sale
Moleskine Classic 12 Month 2022 Weekly Planner, Hard Cover, Large (5" x 8.25"), Sapphire Blue
Moleskine Weekly Planners: Our weekly planners are perfect for business and travel planning, drawing and sketch diaries, reading journals, college/academic planning and other professional projects
Increase Productivity: Moleskine monthly and weekly planners come with calendar grids, pages for to do lists, bullet journaling, and other project tracking styles so you can easily meet your goals
Gift Quality Planners: Moleskine hard or softcover planners and journals are available with lined or unlined pages; The durable binding and cover are designed for daily journaling, writing, and sketching
Deluxe Pages: The thick, ivory paper pages in our hardcover notebook, softcover notebook, cahier or volant journal, or planner are perfectly textured for writing with a ballpoint pen, fountain pen, or pencil
Moleskine Quality: We're dedicated to culture, travel, memory, imagination, and personal identity, both physical and digital; We bring this commitment to our notebooks, bags, apps, and smart pens and notebooks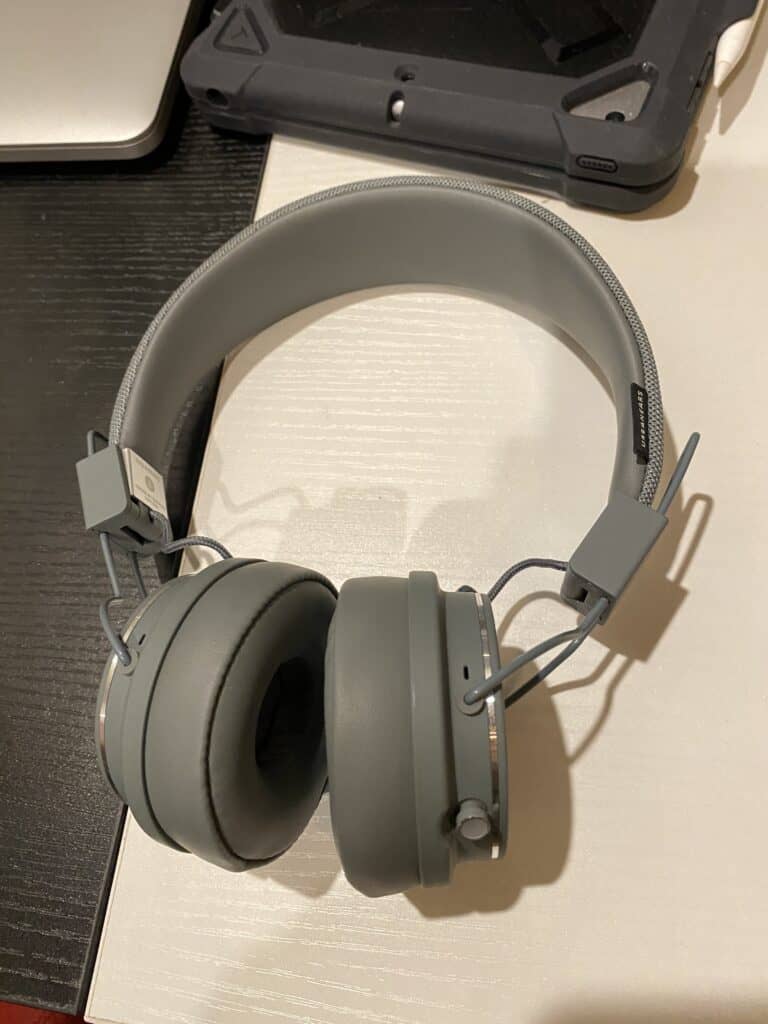 #4
Headphones – A Must Have Vet Student Essential Item
Headphones are imperative for those long study sessions in the library and walking around campus. We love the Urban Ears headphones; they go over the head, so they do not cause your ears to hurt like the earbuds. The colors are fantastic! Listening to music throughout the day is an excellent way to reduce your stress levels. Another plus is recording lectures and re-listening them while going over the PowerPoint notes.
#5
Comfortable Shoes
A comfortable pair of shoes that will last you throughout the year.
When you are in classes all day, the last thing you want is to have your feet aching. Everyone has a different style so just pick a shoe or sneaker that is comfortable. Any of our ideas for the best veterinary shoes will work for long college days.
#6
Dissection Kit – Important Vet Student Essentials
All first-year veterinary students need a dissection kit; this is another vet school essentials. You will begin using this during the first year of veterinary school in the gross anatomy lab. Usually, you need to dissect dogs, cats, birds, horses, cows, goats, and perhaps a few other animals. These were the animals I studied during my first-year anatomy class.
We recommend the following dissection kit because it has everything you need for class. Make sure you get a complete kit with all the right tools.
The scalpel blades are disposable, so make sure you bring extras when doing more dissections.
#7
Water Bottle
Make sure to stay hydrated. It's easy for students to get behind on their water intake because they are busy studying and prepping for classes.
Keeping a water bottle with you throughout each day will help ensure that you get enough fluids in your system. We recommend getting a reusable water bottle instead of buying bottled water because you can save money and keep plastic out of landfills.
Hydration is essential in keeping yourself healthy, energized, and sharp.
We love the Yeti Water Bottle because it keeps water cold for 24 hours and hot for 12 hours! The fact that it's stainless steel and vacuum insulated is even better.
YETI Rambler 26 oz Bottle, Vacuum Insulated, Stainless Steel with Chug Cap, Navy
Get to drinking faster with the Chug Cap. It just takes a quick half-twist of the TripleHaul Handle to open and then you're good to go, making it easy to steal a sip without slowing down
This Double-Wall Vacuum Insulated water bottle has the power to keep your water cold (or coffee hot) until the last sip
18/8 stainless steel construction stands up to even the toughest of conditions
DuraCoat Color that is built to last - no fading, peeling, or cracking here
The Chug Cap is not intended for use with hot beverages. Bottle Dimensions: 10 1/2 in high, diameter of 3.5 in.
#8
Scrubs
You will want to wear scrubs; these are a vet school essential item. We kept our scrubs in a locker room right outside of our anatomy lab; this allowed us to change into our "anatomy scrubs" right before lab. The scrubs will accumulate an awful smell partly due to the formaldehyde and dead animals. The smell will stick on our clothing. If you mistake not changing out of your scrubs after the anatomy lab is over, every other student on campus will know that you just came from the anatomy lab because of the lingering smell you will be trailing behind.
Just get a cheap pair of scrubs for animal lab because, most likely, you will have to toss them once the semester is over. That smell is most likely not going to come out, no matter how many times you wash the scrubs.
#9
Lunchbox
Most veterinary students live off of student loans; a lunchbox is a vet student essential. Bringing lunch from home to college is a great way to save money from those high college cafeteria food costs. It's also a way to keep healthy snacks on hand, so you don't fill up on junk food. We like this one below because it is insulated, and you can easily attach it to your backpack. Pick any random inexpensive lunchbox because many of them won't last for years—plan on replacing your college lunchbox every year.
Sale
CARBATO Lunch Bag, Durable Insulated Lunch Box Reusable Adults Tote Bag Lunch Bag for Men, Women, Adults (Black Gray)
Suitable Lunch Bag Size: The size: 8.7x 4.5x 10.2in / 22 x 11x 26cm. Spacious enough to fit 6 cans of soda, or one person's lunch and more.
Convenient and Portable: This lunch bag is light-weight and foldable, easy to carry, durable smooth zipper. The inside lining can be easily wiped clean with a damp cloth. Strong grip handle with buckle is detachable, you can attach it on shoulder strap of backpack, briefcase, gym bag or travel bag, easy to carry.
Durable Reusable Lunch Bag: The thick thermal insulation provides superb cold/hot keeping performance, keeps food and drinks at optimal temperature for hours; Made with high-quality 600D oxford fabric and reinforced zippers to ensure maximum durability.
Perfect Design: This lunch bag has a front zippered compartment and a small side pocket, you can use it for carrying drinks, your utensils, napkins, keys, small change, cards and other small stuffs, to leave you with plenty room to pack all of your food and snacks for the entire day.
CARBATO Lunch Bag: This lunch bag can suitable for all groups, include men, women, adults, works as lunch bag, picnic bag, sundry bag for your best experience when you go to work, gym, picnic, hiking etc.
#10 Important Vet Student Essentials
Coffee Travel Mug (Great for Tea as well if you are not a coffee drinker)
I love this MiiR insulated travel tumbler because of the locking flip travel lid.
I usually drink coffee before leaving the house, but I will bring green tea in this travel mug later on in the day. It's always a fantastic surprise to have warm tea when I completely forgot to bring it with me. Having green tea helps me get through my afternoon classes! I love the blue color! I can throw this coffee mug into my backpack, and it will not leak, the lid screws on tight, and the flip-top snaps shut.
MiiR Insulated Travel Tumbler with Locking Flip Lid, Car Holder Compatible for Coffee and Tea - 12oz - Blue
CONSTRUCTION: Best in class Thermo 3D double wall vacuum insulation eliminates condensation and keeps coffee and tea hot & cold stuff cold. Hardshell powder coating adds grip and protects & preserves your product's appearance.
MATERIALS: High quality 18/8 medical grade stainless steel is safe & strong and won't transfer flavor or leave a metallic aftertaste. All MiiR products are guaranteed to be 100% BPA free. Hand wash recommended for long-term product satisfaction.
LID: Insulated Travel Lid flips open for easy access to your beverage and locks when closed for leak free satisfaction. Not to mention, it does a splendid job of keeping hot bevies hot and cold bevies cold for longer. Top rack dishwasher safe.
SIZE: Compatible with most cup holders to keep your drink locked and in an upright position as you navigate life's wild ride.
PRODUCT TO PROJECT: Every MiiR product sold helps fund trackable giving projects. Register your Give Code to experience the story behind your purchase. All MiiR products come with a limited lifetime warranty against manufacturer defects.
#11
A Good Stethoscope is an Important Vet Student Essential!
In veterinary school, you will begin to use your stethoscope in the second semester. If you are wondering what tools veterinarians use, a stethoscope is on the top of the list. In vet school, you will need to start getting familiar with the normal and abnormal heart and organ sounds. If you have pets you can start practicing on your pets now. Stethoscopes are must have vet student essentials.
Sale
Final Thoughts on Vet Student Essentials
We hope you found this article on vet student essentials helpful and informative. We know how stressful life as a vet student can be, so we wanted to provide some valuable tips that might help you save time or money in the future. Whether choosing an anatomy lab kit or bringing lunch to school, these items will certainly come in handy for your studies and day-to-day activities. Let us know if there is anything else we can do for you!