Ross University graduates spend the first 7 semesters on the island of St. Kitts. In their 7th semester, Ross University students participate in seeing client-owned animals at the RUSVM hospital. This hospital is where anyone on the island can take their pets for veterinary care. Dr. Stephanie Maresca completed her clinical year at Purdue University. A Ross University College of Veterinary Medicine student attends one of the US schools, for their clinical year. There are many schools to choose from: Cornell, North Carolina, Minnesota, Purdue, Oregon, Tuskegee, and Washington State are just some of the choices.
If you have read some of our other Ross Univerisity interviews, like this one, then you already know that Ross tends to turn out students who loved their experience on St.Kitts.
*Note to reader: this is an affiliate link, you will help to keep this site running (at no extra cost to you) by buying the Amazon book through this link*
This book is a must for navigating the requirements for each of the veterinary medical colleges: Check out this book: Veterinary Medical School Admission Requirements (VMSAR)
Name, veterinary school attended, and year that you started.
Ross University School of Veterinary Medicine August 2011
Who are the animals that you currently share your life with?
Buckley, the incredibly handsome Goldendoodle.
Tell me a little bit about where you work as a vet?
I work at a 7 doctor small animal general practice. We have modern equipment and excellent staff. I have the opportunity to perform a variety of surgical procedures and manage complicated medical cases. We also have referral centers nearby for our clients.
Where did you attend undergrad and what was your major?
University of Delaware
Started as a Biology major and then switched to Pre-Veterinary Medicine and Animal Biosciences.
Did you attend grad school?
No schooling between undergrad and veterinary school.
Did you apply to vet school after, or during your Bachelor's education?
I applied during my bachelor's education.
At what age did you first apply to vet school?
21
How many schools/application cycles did you apply to before being accepted? Were you waitlisted at any schools? How many schools invited you for an interview? How many of those gave you an acceptance letter?
I applied to 8 schools during my first cycle and interviewed at 3 schools. It seemed, at the time like all I was getting was rejections. I interviewed at Ohio State, Purdue University, and Ross University.
Of the three interviews, Ross University gave me an acceptance letter and I was waitlisted at Purdue. Ohio State gave a rejection letter a month after the interview.
Do you remember any specifically challenging interview questions?
I remember feeling unprepared for my Ohio State Interview because they had asked me specifics on the influenza outbreak that year, which I honestly didn't know much about at the time. One of the three interviewees was a PhD student studying epidemiology so that was a particularly difficult question to skirt around while still trying to sound knowledgeable. They also asked specifics about my veterinary competency and had me walk through tasks I would be comfortable performing. Those questions weren't difficult but being put on the spot made it difficult to answer fluently.
What was your GPA (in undergraduate)?
My overall GPA was 3.2 and the major GPA was 3.6.
What was your GRE score?
Note from author: If you still need to take the GRE, check out these 5 tools (some free) to help you ace the GRE.
GRE score was 1230.
Verbal was only 500.
Quantitative was 730.
I took the GRE three times and was working full-time through the summer I was studying. I did not prepare well for the exam but knew it was a prerequisite for applying to veterinary school. In retrospect, I should have focused more on the GRE and realized the value it had in the application process. I found during my interviews that multiple schools saw my GPA and GRE and seemed impressed by the quantitative GRE score. All three interviewers brought up this score as a positive. Since my GPA was not over 3.5, that higher GRE definitely helped during the application process.
How many extracurricular activities did you list on your application?
I was a founder of my sorority at the time and we did a lot of fundraisers and were involved with a few different philanthropic organizations that I listed on my application.
Did you have exotic, large and small animal experience prior to applying to veterinary school?
My undergraduate school had an agricultural department so we had a few courses where we had exposure to livestock.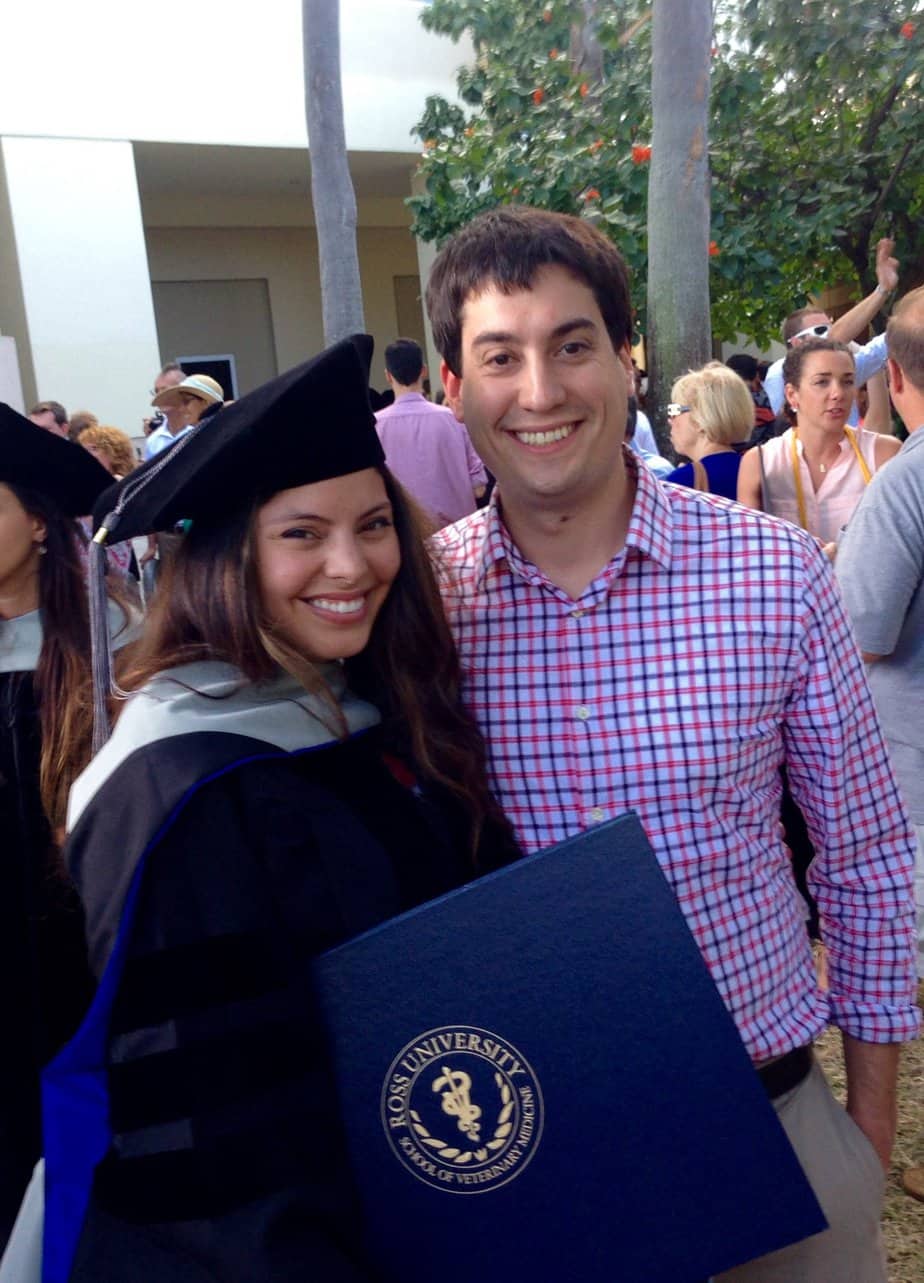 What types of paying jobs did you have before going to Ross University College of Veterinary Medicine?
I was working as a veterinary assistant my last two years of college.
How many people read your personal statement before submitting it?
I had my parents and roommates look over my personal statement before submitting it.
When did you decide to become a vet?
I always wanted to be a veterinarian and had great exposure to different animals at a young age. I don't think the way I cared for my hamster and turtles necessarily prepared me for veterinary medicine but.
Did you interview any vets before starting the application process? If so how did you approach them?
I did not interview any vets before applying but remember questioning a vet before deciding my college major. I was volunteering at a vet hospital in high school where a new young graduate worked. She was charismatic and beautiful and smart and had gone to Ross University. It always stuck with me that she was a great vet and had great things to say about the school. I had gone home that night telling my parents how relatable she was and how incredible her school in the Caribbean sounded.
Were you a member of any clubs at your undergraduate school? If so, which ones?
Animal Science Club. Alpha Delta Pi Sorority.
Did you join student clubs in your DVM program at Ross University? If so, which ones? Were they helpful?
Surgery club. The extra speakers and information in an area of interest I had were helpful.
Who gave you your letters of recommendation? Did you know them well?
I had employers and a few professors that I had a closer relationship to write them.
Did you find the application process stressful? Why or why not?
The application was stressful but also exciting. Researching different schools was an exciting process. It was scary knowing that your personality and potential was being narrowed down into a small personal statement and GPA/GRE numbers.
Are you happy that you chose this career? What makes you most happy about this career choice?
Veterinary medicine is absolutely what you make of it. You can choose a path that you find personally interesting, exhilarating and fulfilling. That fulfillment comes from a difficult case that you spent hours mulling over and helped treat, or a family that is thankful for your compassion in their loved one's last moments, or the young couple with a new puppy that is putting their trust in you to guide them with their newest addition. You can feel like an absolute rockstar helping your patients.
It's great to be in a profession that you can pursue your interests and goals. Whether you're passionate about surgery, internal medicine, exotics or cardiology, the general practice provides you with the cases to pursue your interests. You can practice your skill set and excel in whatever interests you. I love the flexibility that veterinary medicine gives us and the daily personal reward it provides.
Do you have any advice for students, once accepted?
Study hard and keep in mind what your goals are. You don't need an A+ in every class to be a veterinarian so being well rounded and keeping sane is vital with all the stress of difficult classes and exams.
Any study tips? What was your favorite method for studying?
Verbally discussing topics and notes helped me most. Many people made study guides and would rewrite notes. Study guides were a great way to condense information but going through lecture notes and slides with a friend and discussing them out loud helped me retain more information than just rote repetition and memorization.
Were there any classes, within your DVM program that were especially relatable to your current position?
My entire clinical year was the most helpful. It seems like the 3 years prior were just leading up to FINALLY feeling like a Veterinarian. The informative years are necessary but physically touching animals and realizing that all those specific classes were needed for the broader big picture of medicine and surgical cases were where everything began to click.
What was the most challenging class, in your DVM program?
They were all tough but none stuck out as a particularly weak class. Some I excelled in and others were average. I think one of my lower grades was in Physiology.
As a student, did you have to take out loans for your education? If so, are you concerned about the amount of debt or how to pay it back?
I have taken loans out through the government, which are now being collected by Navient. The debt is daunting but not crippling. It's disappointing how much debt we graduate with considering the average annual salary.
Was there anything in particular about your DVM program or the school itself that you liked?
I am so proud of my decision to attend Ross University. The decision to leave the country was exciting and gave me the opportunity to focus on a new chapter. The comradery you feel with classmates on a small little island away from family is like no other. You form a bond with your classmates and lean on each other in difficult times and celebrate in good times. It truly becomes a family and home away from home. I don't think my experience would have been the same anywhere else.
How many different places have you worked for after vet school? Was it difficult finding a job that was the right fit for you?
I interviewed at a few different practices after graduation. Finding a job wasn't very difficult but finding one in a specific location was harder. New graduates seemed to be in demand. It's important to go in with a checklist and remember what is important to you. For me, mentorship, quality of medicine and ability to progress were vital. I chose a practice that had a great staff, mentorship, rigorous caseload and modern equipment. If you don't feel comfortable during your interview, chances are it won't be a great fit.
Did you have to move to take a position somewhere?
I moved out of state to get the position I now love. I interviewed in a larger geographic radius because I was ready to relocate.
Do you frequently have to research cases, on off hours?
Not all cases are straightforward so it's pretty common to research diagnostic options, treatment plans, and prognosis on disease processes.
Do you have any last words of wisdom?
Don't ever feel discouraged. Whether the application process is a breeze or if there are trials and tribulations getting to where you want, never give up. You will end up where you were meant to be no matter the path you take.
How can people find you?
Facebook under the name Stephanie Arielle Santora
A FEW MORE ROSS INTERVIEWS CAN BE FOUND BELOW