What are the significant differences between a messenger bag vs backpack? Whether you want the even shoulder distribution of a pack or like the way a messenger bag looks, we will help you figure out which to choose.
Everyone has a preference on what kind of bag they want to carry around when they go out. Some people like backpacks, while others prefer messenger bags. However, if you are trying to decide the pros and cons of a messenger bag vs a pack, we are here to help!
Messenger Bag VS Backpack – Is One Better Than The Other?
There are many factors to consider in determining if a messenger bag is better than a backpack. So you can make the best bag choice for yourself, you need to understand the differences between these two types of bags. This article will explore these two types of bags and how they differ.
Messenger Bags (Messenger Bag VS Backpack)
The main difference between a messenger bag and a backpack is that you carry the backpack entirely on your back. And it has two shoulder straps. In contrast, a messenger bag is like a sling bag with one shoulder strap.
Messenger bags for college are popular because many people just need to carry their laptops, tablet, and one book. A messenger bag is perfect if you have a lighter load like this.
Life will be a lot easier after you get a good messenger bag. You'll be able to carry all of your belongings with you wherever you go. No more worrying about losing your keys or your phone. However, just remember that there is one large main compartment with a messenger bag vs backpack, so all of your things are thrown together.
Pros for a Messenger Bag
They are also often slimmer and have less bulk, making them easier to carry around.

Messenger bags are more stylish and professional-looking.
Messenger bags are lightweight, easy to carry around, and get in and out of, rather than a backpack.
If you are commuting on a bike, then a messenger back comes in handy for getting in and out. You can easily slide it towards your front without taking the entire bag off.
If you carry it on public transportation, it is less bulky when standing on a crowded subway.
I like how I can sit down on a train and keep the bag attached to my body without taking it off. (You just sling it towards the front)
You will get less back sweat with a messenger bag because you can quickly move it around.
Most messenger bags are automatically waterproof. They make a vast waterproof school bag.
Cons for a Messenger Bag
Messenger bags do not evenly distribute the weight across both shoulders.
A significant downside to messenger bags is that they can be pretty uncomfortable, especially if you don't correctly fit the bag.
Your body needs time to adjust to the weight of the messenger bag if you usually only carry a backpack.
Some messenger bags don't have as many internal pockets as a backpack. However, you can easily buy some internal organizers for your stuff.
Most messenger bags do not have an outside pocket for a water bottle. However, they often have plenty of hooks, so you can easily attach a stainless steel water bottle with a carabiner.
You have to be mindful of where you place things in the bag, or your microbiology textbook just might be poking you in your back.
A messenger bag tends to slip and slide around on your back if it's not fitted correctly.
Timbuk2 Classic Messenger Bag, Gunmetal, X-Small
THE CLASSIC MESSENGER: The original Timbuk2 messenger improved by 30 years of expertise
KEEP IT ORGANIZED: Internal organizer for laptop, pens, phones, and other small stuff; Internal slash pocket provides padded, firm place to store files; Napoleon side-entry pocket for access without undoing the flap; Internal water bottle pocket
CLEVER EXTRAS: Low profile top grab handle for easy heave-ho; Partially concealed flap buckles with bottom compression straps for subtle and secure closure; Smart hook and loop placement for fast, easy closure and reduced sweater-pilling; Vista loop for attaching blinky bike lights
MATERIALS & FIT: Easy wipe internal TPU liner; Coordinating Strap Pad included; Cross strap not compatible with XS messenger; Fully adjustable shoulder strap with a permanent, super comfortable airmesh strap pad; Removable crossbody strap for cross-body stabilization; Main body material is rugged 150D Poly Tweed
LIFETIME WARRANTY: Timbuk2 stands behind the legendary quality and craftsmanship of all our products; We also embrace the wild, twisty ways of life; If there is a defect in the materials or workmanship we will repair the bag at our discretion for the lifetime of the product
Messenger Bag Features To Look Out For
Color
Do you need a messenger bag that is a solid color and more professional-looking?
Size
How much do you need to carry with you daily?
Waterproofing
If you are frequently caught in the rain, or your bag will be subject to wetness, then look for a waterproof messenger bag.
Padding
Do you need extra padding for your laptop and other devices? Some bags come with built-in padding, while others do not.
Style
Do you want a bag with a more sophisticated or professional look? Or are you looking for something that is more fun and trendy?
Backpack – (Messenger Bag VS Backpack)
What about a backpack!? You're probably wondering what the big deal is and why some people swear by packs and others swear by messenger bags. Well, let us tell you.
A backpack is perfect for carrying your stuff around while you're on the go. No more messenger bag straps digging into your shoulders! You don't have to worry about it hurting your shoulders and back.
You'll be able to go on hikes, walks, commutes, and plane trips without feeling the weight of your messenger bag on your shoulders. You'll be able to carry more things with you, which means you'll have everything you need with you when you need it.
After buying a supportive backpack, you feel more organized and in control of your life. With the right bag, you can go about your day with less stress because you'll know that your belongings are secure.. One thing we love is that a pack sits on your shoulders and doesn't slip around. A backpack vs a messenger bag allows you to focus on the task at hand without having to worry about your bag slipping off your shoulder.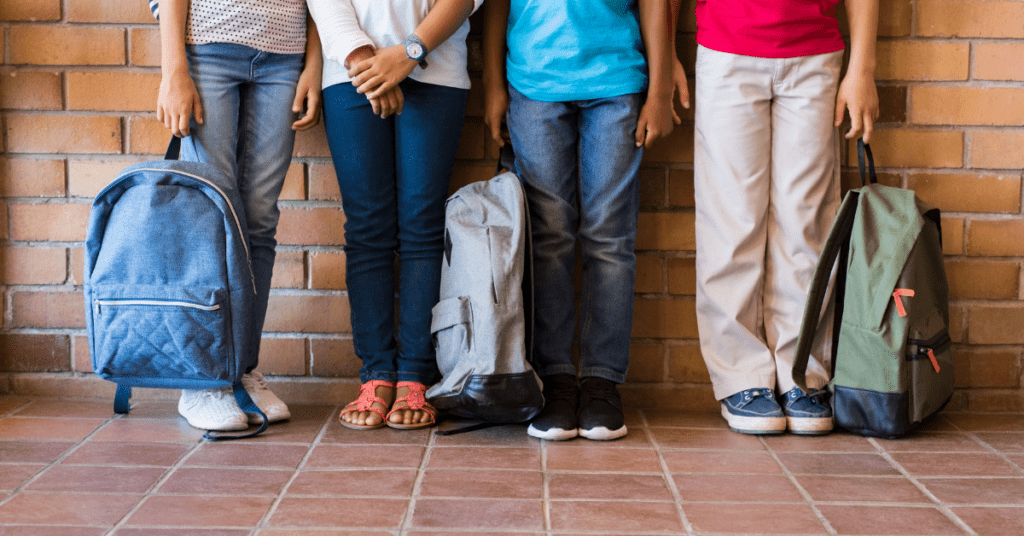 Pros for Backpacks
The straps distribute the weight evenly across your shoulders and body.
They usually have a lot of pockets for storage.
You can fit more stuff into a backpack.
A backpack usually has padding and compartments to protect your things if you throw it into an overhead bin.
The shoulder straps come with padding which provides an even deeper layer of comfort.
Cons for Backpacks
They can be a bit bulky.
Not all backpacks have waist straps, which can make them uncomfortable to wear for long periods of time.
A backpack is not as stylistic as a messenger bag.
Backpack Features To Look Out For
Size
How much do you need to carry with you on a daily basis?
Waterproofing
Some backpacks come with a hidden rain pouch that is inside of a hidden compartment, which you can take out in a storm.
Padding
Do you need extra padding for your laptop and other devices?
Style
Do you want a backpack with a more sophisticated or professional look? Or do you want a unique and colorful bag?
Color
Some people prefer a black backpack whereas others want a neon bag, it all depends on what you want to use it for.
FAQs for Messenger Bag VS Backpack
Are Backpacks Better Than Messenger Bags?
Over a messenger bag, backpacks may be a better choice if you have a bad back. The other day, while walking through the city when I saw a person with a messenger bag slung over their shoulder. It was clear that they were struggling to carry the bag's weight and their laptop. They were also having trouble keeping the bag from slipping off their shoulder.
Meanwhile, I saw another person walking by with a backpack, and I couldn't help but envy them. The person looked like they weren't carrying a thing, while the person with the messenger bag was struggling. Their backpack was sitting comfortably on their shoulders, and the weight was with an even distribution of weight.
It's no secret that backpacks are better than messenger bags when distributing weight. Messenger bags can be hefty, mainly if you can't distribute the weight across your shoulders.
With that being said, I still do not think backpacks are better than messenger bags; it's just a matter of personal preference. Depending on the situation, I use a backpack or a messenger bag.
Are Messenger Bags Worth it?
Yes, a good messenger bag, like a Chrome or TimBuk2, is worth it because they are durable and will last for a long time. My Chrome messenger bag is over 10 years old and it still looks new.
Can You Hike With A Messenger Bag?
Write a unique scenario on why it is a bad idea to hike with a messenger bag in a story form
If you are hiking up a mountain with a messenger bag slung over your shoulder, more than likely you will be uncomfortable. On a hike, you want a sturdy backpack that sits firmly on your back with ample padding.
When you use a messenger bag everything you need for the hike: water, snacks, dog food, extra clothing, and supplies will all be in one large main compartment. The longer you hike the more you will start to feel the weight of the messenger bag. The bag will often slip and slide around.
Conclusion – (Messenger Bag VS Backpack)
At the end of the day, it really depends on what you are looking for in a bag. If you need something that distributes the weight evenly and has a lot of items to carry on a daily basis, then a backpack is probably the best option for you. However, if you are looking for a more professional, stylish, and sophisticated look, then a messenger bag might be better suited for your needs.
All in all just get what is going to be the most comfortable, because in all reality nobody is really going to judge you for what type of bag you carry. It's all about comfort, preference, and function! I like to use my messenger bag for traveling on short trips, and my backpack for school. However you might use yours the opposite way, just make sure it's comfortable and perfect for your needs!
How do messenger bags and backpacks differ? Messenger bags are designed to allow you to quickly get in and out of your bag without taking it off, while packs are specifically designed to carry heavier items without putting strain on your back.
Which one is better for you? It honestly depends on what you need it for. If you need something for
We hope that learning the differences between a messenger bag vs backpack will guide you in choosing one or the other! Thank you for reading!